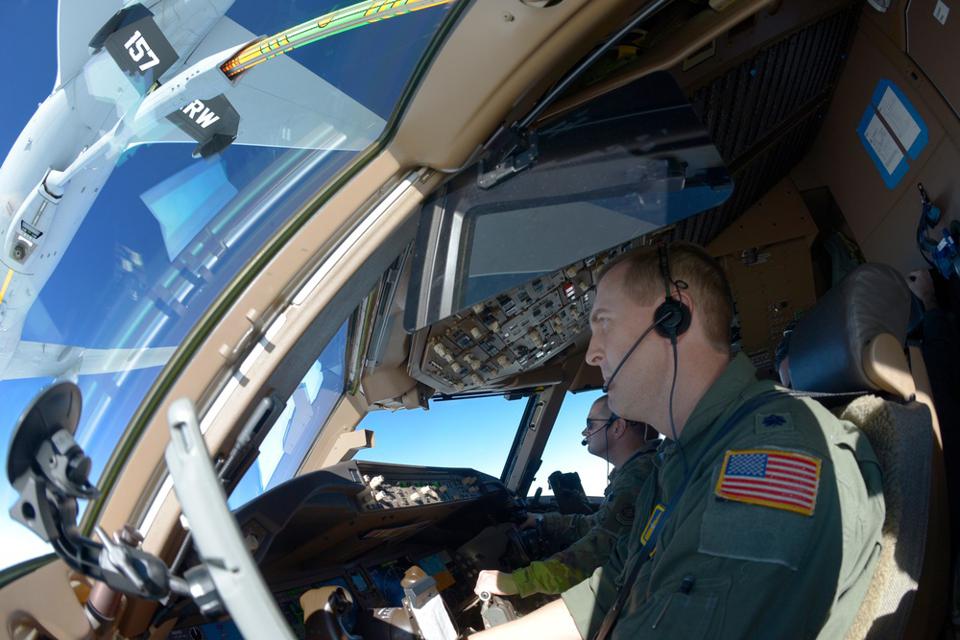 A crew led by Lt. Col. Greg Van Splunder and Lt. Col. Brandon Stock, pilots with the 157th Air Refueling Wing, took off on Wednesday morning in their KC-46A Pegasus. They landed 36 hours later after flying 16,000 miles non-stop, demonstrating that the USAF's newest tankers can offload lots of gas to thirsty fighters over the Pacific despite the fact that they won't replace aging KC-135s one-for-one.
Air Mobility Command boss, General Mike Minihan, affirmed that the 36-hour hop was AMC's longest mission to date, undertaken to find new ways to employ current assets in anticipation of a future fight.
"This extended mission," Minihan said in an Air Force press release, "is yet another example of capable Airmen taking charge and moving out to accelerate our employment of the KC-46A. This Total Force mission boldly highlights the imperative to think differently, change the way we do business, and provide options to the Joint Force."
The imperative stems from the reality, confirmed by recent reports, that the Air Force is facing a gap in aerial refueling capacity through the mid-2020s as it retires aged KC-10 and KC-135 tankers faster than they can be replaced by the KC-46A or another follow-on tanker. The Air Force expects to buy at least 179 KC-46 airframes for $4.9 billion. They will not fully replace the 398 KC-135s the USAF currently employs in the aerial refueling role alongside 38 to 40 KC-10s. In fact, they'll represent just 40% of that force.
The mission, flown from the 157th ARW's home at Pease Air National Guard Base, New Hampshire, follows another Pegasus capability demo wherein just two crewmen (a pilot and boom operator) flew a KC-46 through a full aerial refueling mission from takeoff to rendezvous to tanking, operating from McConnell Air Force Base in Kansas late last month.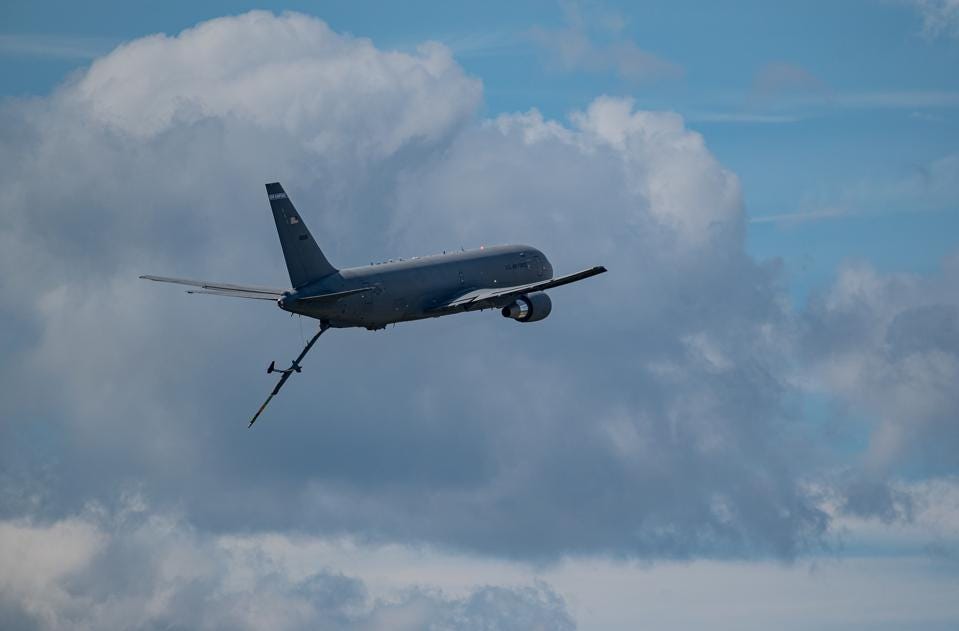 AMC said that mission was flown to validate procedures for flying "with a limited aircrew for certain potential high-end combat scenarios." In effect it demonstrated that a pair of crewmen could quickly get a KC-46 off the ground where it is vulnerable (at Indo-Pacific basing sites) to Chinese missile threats and do something useful with it. The latest marathon mission could be seen in the same context since an airborne KC-46 is harder to target than one parked on the ramp.
The 36 hours aloft also represent some potential "good press" for the Air Force following recent news that a Pegasus on its way from Glasgow Prestwick Airport in Scotland to Joint Base McGuire-Dix-Lakehurst, New Jersey, suffered damage while refueling an F-15 Eagle. Its refueling boom forcibly broke away from the Eagle and slammed back into the KC-46, resulting in $2.5 million worth of damage to the tanker.
The damage may have resulted from "stiff boom" issues related to multiple KC-46 boom design flaws the Air Force cited in 2018. It also occurred two months after the boom-retracting cable snapped on a New Hampshire Air National Guard KC-46, forcing the plane to land with the apparatus extended.
The KC-46's ability to stay aloft for such an extended time is enabled by its own capacity to be refueled in flight. During the record-breaking mission the Pegasus was itself refueled three times from other KC-46s. The 157th crew in-turn refueled F-22s over an operating area in the Pacific.
The long-endurance mission was not the first for the KC-46. Other crews have previously flown 22 and 24-hour missions, demonstrating what AMC KC-46A Cross-Functional team lead, Lt. Col. Joshua Renfro, explains was a "deliberate approach to broaden the scope of KC-46A employment and its global command and control capabilities."
Those command and control capabilities include the tanker's ability to communicate and share data via secure and unclassified networks and to employ unspecified "situational awareness systems". Air Mobility Command cannily added that the information detailed in the release "was sent to AMC leadership using the aircraft's on-board communications links during flight."
A presumably automated "human performance monitor" aboard the flight collected quantitative data throughout its duration. AMC said that the information, along with that collected during the other recent 20+ hour missions, "will be used to inform decision making for future norm-breaking employment opportunities."
The KC-46's day -and-a-half refueling mission may have broken norms for the aerial refueling community (if not for the USAF's strategic bomber fleet) but it also arguably sent a message that the Air Force did not intend.
In its recently unlimited quest to trade capacity for hoped-for capability, the service is stripping its fighter, bomber and tankers fleets, forcing them to do more with less. For the Chinese, the takeaway is that a new KC-46A – even one flying an extreme 36 hours – cannot, does not have the capacity and flexibility of the roughly three legacy tankers each one is supposed to replace.
SOURCE: https://www.forbes.com/sites/erictegler/2022/11/19/a-kc-46-crew-gutted-out-a-day-and-a-half-long-mission-to-prove-the-air-force-can-offset-its-dwindling-number-of-tankers/?sh=796ebfff8154