By Staff Sgt. Jasmine Czajka
507th Air Refueling Wing Public Affairs
TINKER AIR FORCE BASE, Okla. — For more than 60 years, the KC-135 Stratotanker has graced the skies with her airlift and aerial refueling capabilities. However, similar to all things in life, each individual jet can reach its expiration date, and its career must come to an end.
With a four-man crew and heavy hearts, members of the 507th Air Refueling Wing flew the tanker with tail number 0058 on her final flight to Davis-Monthan Air Force Base, Arizona, and officially retired the jet December 16, 2022.
"We are retiring this jet because it still has its original, non-updated parts," explained Tech. Sgt. Travis Krause, dedicated crew chief of the retired jet. "I picked up the jet's replacement last month, so now I just have to keep trucking on and treat it as if it's my own until it feels like it is, years down the road."
Krause recounted how he has spent all 12 years of his reserve career, until now, as crew chief for jet 0058. He explained that he designed the nose art on it, put his blood sweat and tears into working on the jet, and how he felt the plane truly became his own during all the time he spent with it.
"When I first heard this plane was getting retired, I thought 'It's time for me to retire, too,'" admitted Krause. "That plane means more to me than anything, and she was the number one reason I stayed at Tinker for as long as I have."
Many flight crew members were able to sign their names and a farewell message on the plane before and after the final flight. Krause was even presented with a framed replica of jet 0058's tail, in honor of his time spent as 0058's crew chief.
Nonetheless, Krause confessed that it is sad to say goodbye to a plane that had so much soul. "That plane lives every day," declared Krause. "The last thing I told her before I went up the ladder for the last time was, 'I'm gonna miss you buddy. I'm really gonna miss you buddy.'"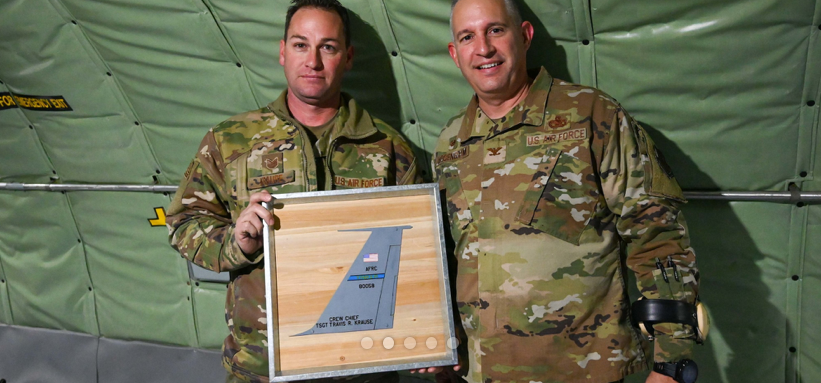 Source: https://www.507arw.afrc.af.mil/News/Photos/igphoto/2003141194/